140th Infantry
From Helderberg Hilltowns of Albany County, NY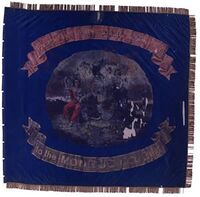 140th Infantry
Monroe County Regiment; Rochester Race Horses

The 140th, the "Rochester Racehorses," was recruited in Monroe county, organized at Rochester, and there mustered into the U. S. service on Sept. 13, 1862, for three years. The regiment left the State September 19, 1862

The regiment was in the hottest of the fighting at the Wilderness and suffered severely there, losing 23 killed, 118 wounded and 114 captured or missing; total, 255.

Among those killed in action

Caleb Brewster Hotaling was a native of Berne and a 32 year old Private of Company D when he was killed in action at Wilderness, VA on May 8, 1864. He left behind a widow.

Among those wounded:

Harvey Miller of Rensselaerville was a 25 year old Sergeant of Company F when he was wounded on May 15, 1864 at Wilderness, VA. He was mustered out on August 21, 1865 at Hart's Island in the New York Harbor